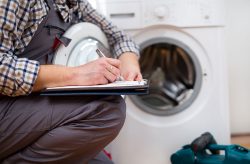 Doing the laundry has always been a necessary task. And your home's washing machine and dryer make doing your laundry easy. Plus your washer and dryer have a longer lifespan than most of your home's appliances making it easy to take them for granted. But did you know that regular maintenance can help them last longer? And do you know when a noise is just a normal part of your washer or dryer's cycle or a sign of a serious issue that's in need of repair?
The good news is that Crews Appliance Repair, here in St Charles, MO has been providing you with quality repair services for your washers and dryers for more than 35 years. We take pride in our work, and we give you a 100-day warranty on every repair we perform. Plus if the cost of your repair is more than $59 your service call is free.
Washing Machine Repair in St Charles, MO
We specialize in washing machine repair throughout the greater St Charles, MO area. No matter how small your washer repair or service needs are, Crews Appliance Repair can help.
Our customers in St Charles, MO rely on us to fix these washing machine problems and more:
Washing machine won't spin
Washing machine is making noises
Washing machine is vibrating or shaking
Washing machine won't start
Washing machine won't spin or won't agitate
Washing machine leaks
Washing machine fills slowly
Washing machine stops mid cycle
Washing machine has a foul smell
Dryer Repair in St Charles, MO
Besides our superior washing machine repair services, we can supply you with a dryer repair service that's second to none.
Take a look at all the dryer problems we solve for our Charles, MO customers:
Lint build up problems
Clogged vent problems
Sensor problems
Door problems
Electrical problems
Heating problems
And more
Our highly skilled and caring technicians here at Crews Appliance Repair are trained in solving any issue that can arise and understand the intricacies of even the latest models of washers and dryers so we can always provide you with the best quality service and workmanship.

We'll never tell you that you need to replace your dryer if a repair is possible instead.
Whether your washer is broken or your dryer won't heat up enough to dry your clothes and more, you can rely on Crews Appliance Repair for your washer and dryer repair needs. Call us today to schedule your next service.