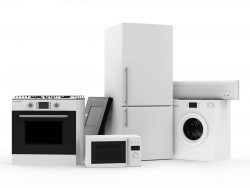 When your refrigerator, oven, ice maker, or other kitchen appliance won't work, it can be tempting to try to fix the issue yourself. There are so many DIY home repair videos that make it seem easy. In reality, many appliances can be difficult to repair if you aren't a trained technician. Plus some types of appliances are too dangerous to fix yourself. That's why you need our help.
The good news is that Crews Appliance Repair, here in St Peters, MO has been providing you with quality repair services for your washers and dryers for more than 35 years. We take pride in our work, and we give you a 100-day warranty on every repair we perform. Plus if the cost of your repair is more than $69 your service call is free.
Refrigerator Repair
When your refrigerator stops working, food can spoil, the milk can go sour, and you wind up having to throw items away which wastes your hard-earned money.
Your refrigerator can need repair for a number of reasons and you definitely don't want to try to repair it yourself. At Crews Appliance Repair in St Peters, MO, we have the solution for these problems and more:
Power problems
Cooling problems
Temperature problems
Your refrigerator is constantly running
Leaks
Freezer Repair
If your freezer breaks down in the summer, your ice cream and ice will melt and make a huge mess. But no matter what time of year it is, a broken down freezer is a major pain. That's why we strive to provide you with same day repair service for any type of repair, large or small, here in St Peters, MO including:
Sealant problems
Gasket problems
Power problems
Icing problems
And more
Ice Maker Repair
If your refrigerator has an icemaker that doesn't work, it can be tricky to find the problem. Every model of refrigerator is different, so if you don't know which parts to get, or the differences between your model and the models shown in a DIY repair video, you're definitely going to need our help to get it working again. We fix ice maker problems such as when:
Your ice maker doesn't make ice
Your ice maker won't stop making ice
Ice won't come out of your ice maker
Your ice maker freezes up
Dishwasher Repair
You've probably come to rely on the convenience your dishwasher provides. It saves time to not have to wash dishes by hand. Plus a leaking dishwasher can cause expensive water damage to floors, walls, and kitchen cabinets. Here at Crews Appliance Repair, we've provided dishwasher repair services to St Peters, MO residences since 1980. We get to the bottom of dishwasher issues like:
Noisy dishwashers
Leaking dishwashers
Failing door latches
Water pooling inside your dishwasher
Dishwasher doesn't run
Dishwasher won't fill
And more
Oven Repair:
Your oven is likely to be hooked up to either gas or electricity making it extremely dangerous to repair yourself. That's where our trained professionals at Crews Appliance Repair in St Peters, MO come in. We troubleshoot and fix a variety of oven issues including:
Thermostat problems
Door problems
Electrical problems
Self-cleaning problems
And more
Garbage Disposal Repair
Because your garbage disposal is small, it can be tempting to put your hands down there and fix the problem yourself. Don't! You never want to put your hands down a garbage disposal, even if you've switched it off at the breaker. Don't be embarrassed to call us if your disposal isn't running or has a leak. We've been fixing garbage disposals in St Peters, MO for nearly 40 years including:
Leaking garbage disposals
Jammed garbage disposals
Clogged garbage disposals
And more
The team at Crews Appliance Repair is proud of our knowledge of the top brands in the household appliance market, and we make sure to keep up to date on repair methods for the latest models. We have experience in all the major household brands like:











At Crews Appliance Repair, we pride ourselves on being able to offer same-day quality repairs whenever possible and a 100-day warranty. Plus, if the cost of your repair exceeds $69, your service call is free! There's no end to the types of household appliances we can fix. From refrigerators to ovens to dishwashers, ice makers, freezers, and more, we've got the know-how to get the job done. If you're having an issue with any of your appliances or you'd like to learn more about all the appliance repair services we provide in St Peters, MO, give us a call today.